Sess DL_ATC_ID: 0
"Editors"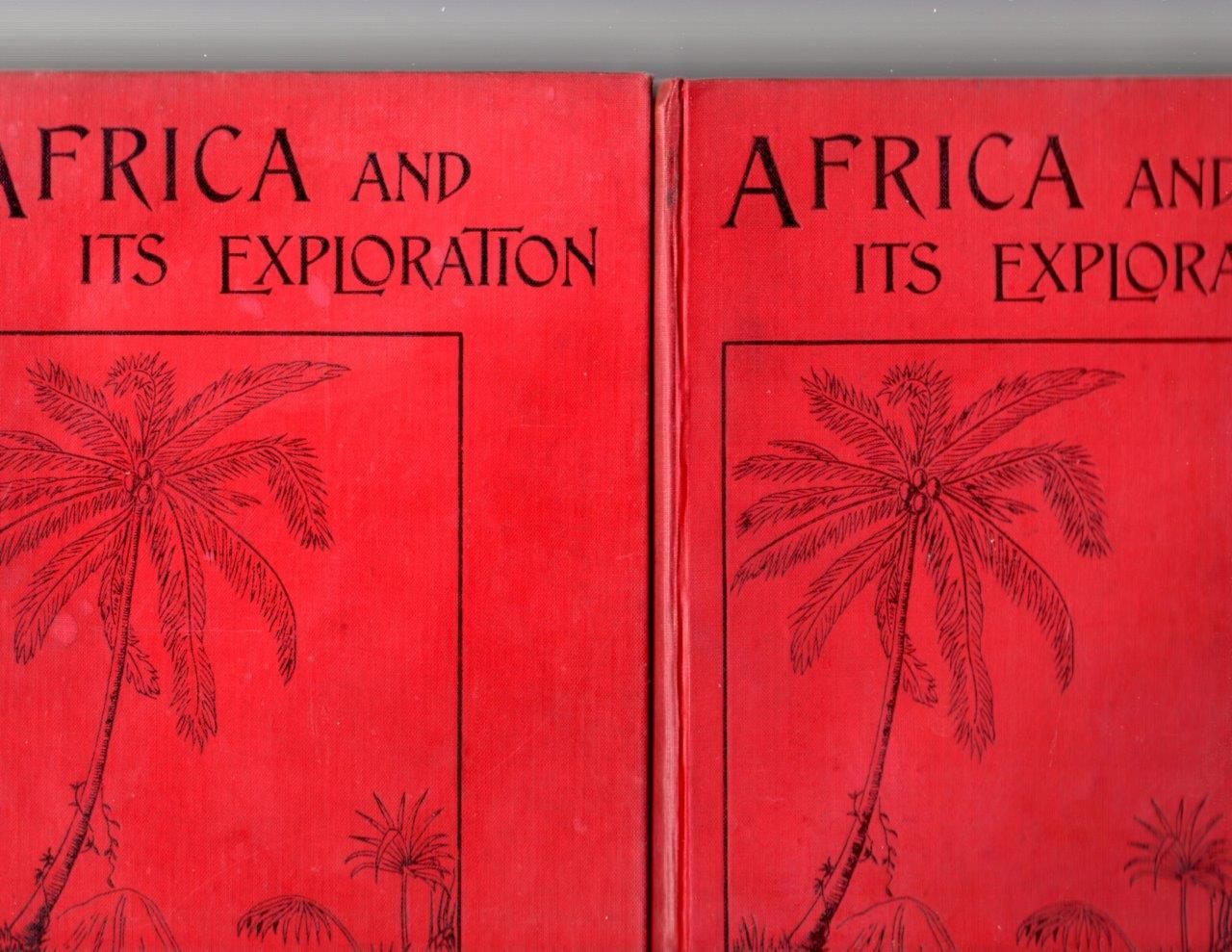 AFRICA AND ITS EXPLORERS


"JL30913" Sampson Low, Marston, London, No date (1891,) first edition, two volumes, heavy octavo. Volume 1 - 572 pages. Volume 2 - 580 pages, with 600 illustrations and maps. The books feature writings by the greatest explorers through to the late 19th century -Mungo Park, Clapperton, the Landers, Barth, Barker, Burton, Capello, Stanley, Speke, Schweinfurth, Grant, Nachtigal, Mohr, Iven, Livingstone, Serpa Pinto, Baker, Thomson, Kerr, Amin. others. The red covers are bright with black lettering and a vignette of an African scene. There is intact gilt lettering on the spines that show only slight sunning. The contents are tight and clean with no marks or inscriptions. Near Fine. The Set. ID#: 4338

$250.00


Currently "1" available in stock .

"Stevenson-Hamilton, Lieut.-Col.J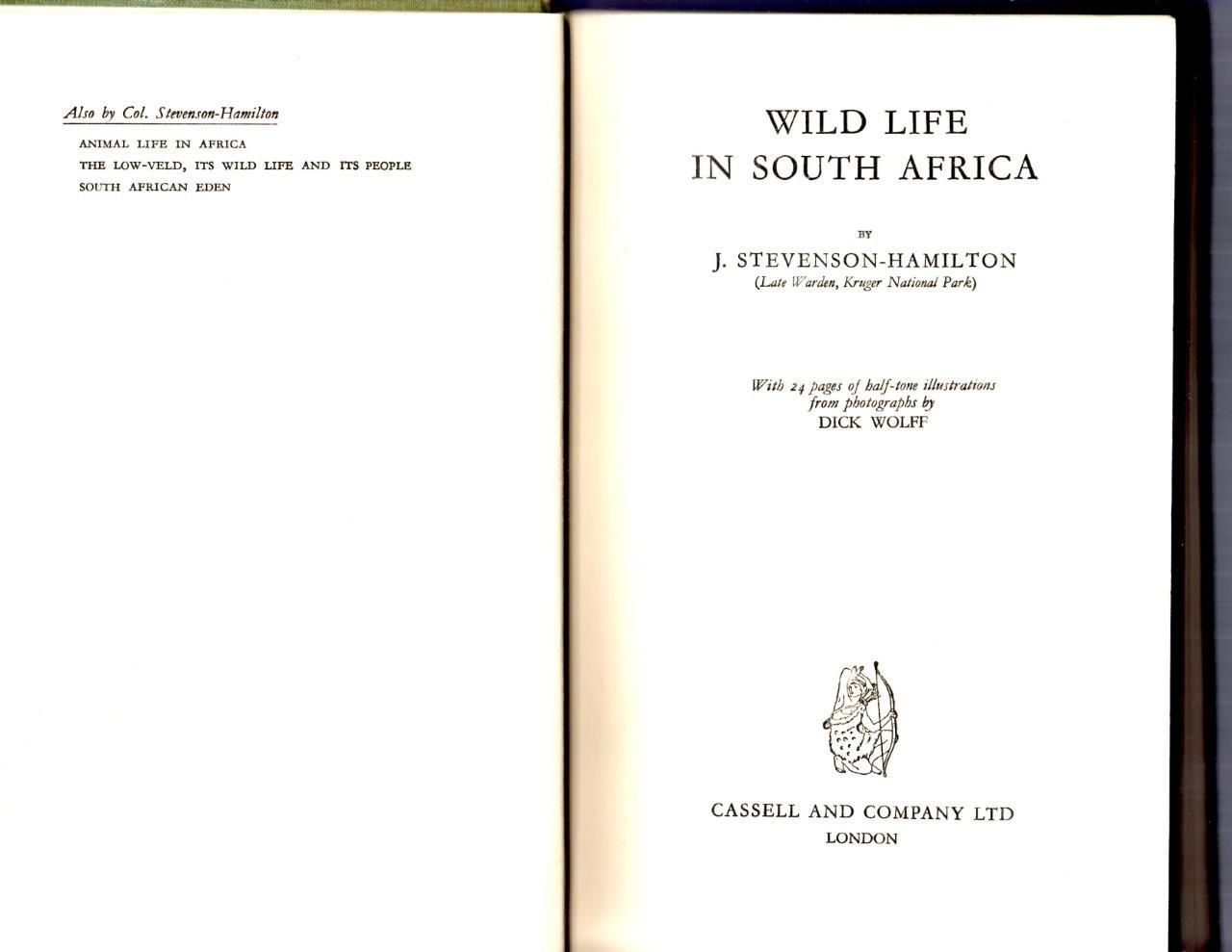 "WILD LIFE IN SOUTH AFRICA


"W25049" Cassell, London. 5th editon 1957, 364 pages, with 24 pages of half-tone illustrations from photographs by Dick Wolff. The author was Warden in Kruger National Park and was a great student of animal behavior. No dust jacket. Spine slightly sunned. Tight, clean and Very Good. ID#: 4358

$15.00


Currently "1" available in stock .

Akeley, Carl & Mary L. Jobe

LIONS, GORILLAS, AND THEIR NEIGHBORS


"SG25231" Dodd Mead, N.Y. 1932, 1st edition, 250 pages, illustrated, pictorial endpapers. Czech writes: ""Mrs. Akeley once more resorts to her husband's earlier book to recount his experiences hunting lion in Kenya and Somaliland with a chapter on her own experience at bagging lion. There are also buffalo hunts with the George Eastman expedition, as well as Carl's renowned experiences with gorillas in the Belgian Congo and his violent encounter with a leopard.."" No dust jacket. Has a previous owner signature on the front endpaper and an inscription on an interior endpaper. The cover and spine with black lettering and decorations are bright and intact. Contents are tight and clean. This is a scarce Akeley title. Very Good Plus. ID#: 3857

$125.00


Currently "1" available in stock .

Akeley, Mary L. Jobe

CARL AKELEY'S AFRICA


"W25588" Dodd Mead, N.Y. 1929, first edition, 321 pages, illustrated, map endpapers. Account of the last and most important expedition of Carl Akeley, the one in which he gave his life while studying the great game herds of Tanganyika and the Congo, the Akeley-Eastman-Pomoroy Expedition for the African Hall of the American Museum of Natural History. No dust jacket. The green cover is bright and unfaded and gilt lettering on cover and spine are bright and intact. There is a black vignette of a gorilla on the cover and a giraffe on the spine. There is minimum cover wear. There is a previous owner bookplate on the front pastedown but no other marks or inscriptions and the contents are tight and clean. Near Fine. ID#: 4293

$75.00


Currently "1" available in stock .

Akeley, Mary L. Jobe

Congo Eden


[N25591] Dodd Mead, N.Y. 1950, 1st edition, illustrated, 356 pages. The great game sanctuaries of the Belgian Congo. Much background on the early explorers, description of big game and story of a six-month pilgrimage through this primitive area. No dust Jacket. The book is Near Fine. $30.00 ID#: 99

$30.00


Currently "0" available in stock .

AKELEY, MARY L. JOBE

Rumble of a Distant Drum


[W26867] Dodd Mead, N.Y. 1946, 1st edition, 364 pages, illustrated by Arthur August Jansson, artist to the Akeley-African Hall Expedition. Decorative endpapers. "A True Story of the African Hinterland." Previous owner bookplate on the front endpaper. No dust jacket. Clean, tight and Near Fine. ID#: 96

$45.00


Currently "1" available in stock .

AMES, EVELYN

A GLIMPSE OF EDEN


[N001886A] London: Collins, 1968. 1st Edition. Hardcover. / Dust Jacket Included. The author recounts in vivid detail and flowing prose her experiences of a prolonged African safari. Excellent critical acclaim. Fine/Very Good Plus ID#: 101

$20.00


Currently "1" available in stock .

Amin, Mohamed, Willetts, Duncan and Tetley, Brian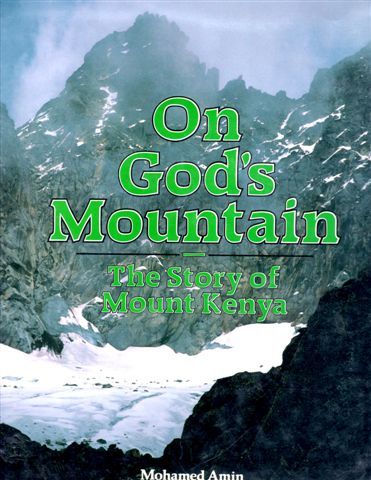 ON GOD'S MOUNTAIN -- THE STORY OF MOUNT KENYA


"T30520" "" "On God's Mountain -- the Story of Mount Kenya" ". Camerapix Publishers International, Nairobi 1991, first edition, folio, 192 pages, illustrated with magnificent photographs in full color, pictorial endpapers. Estimated to have once topped 23,000 feet, wind, sun and rain have taken their toll and slowly glaciation, time and weather eroded its crumbling crown to where Mount Kenya now stands at 17,058 feet. First climbed by Halford Mackinder a century ago, it is now a mecca for mountain climbing enthusuasts who come to relish the rock and ice climbs and revel in the extraordinary beauty of the surrounding moorlands and minor peaks. Dust jacket and book are Very Fine. ID#: 3100

$60.00


Currently "1" available in stock .

Augustinus, Paul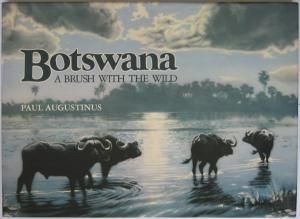 BOTSWANA, A BRUSH WITH THE WILD


(N01238) Acorn Books, South Africa, 1989, reprint of the 1987 1st edition. Oblong folio, 203 pp., with original dustjacket. A sweeping overview of Botswana through the paintings, illustrations and text of the author who spent 18 years in Botswana, explored, studied the habitat, peoples and wildlife, enabling him to become a respected and sought after wildlife artist. The book is the best of only a few works devoted to Botswana. The book is unmarked, clean and the binding is firm, There are no marks or inscriptions. The dustjacket is equally sharp and intact. Together a Fine example of this book. ID#: 4347

$85.00


Currently "1" available in stock .

Bass, Thomas A.

Camping with the Prince and other Tales of Science in Africa


[T29614] Houghton Mifflin, Boston 1990, first edition, 304 pages, map endpapers. Dust jacket, Very Fine. ID#: 105

$10.00


Currently "1" available in stock .

BELLOTTI, FELICE

FABULOUS CONGO - Illustrated by B&W Photos and Map Endpapers


[N01831] London: Andrew Dakers Ltd. ca. 1950?, 1950. 1st. Very Good/None - nd approx 1953. Some shelfwear and spine fading. An outstanding and well crafted book on the Belgian Congo as it was in the early 1950s. The sharp full page photos gives the reader an amazing overview of the customs, tribal culture, and elaborate costumes of the Congolese natives. ID#: 107

$15.00


Currently "1" available in stock .

Bentsen, Chereyl

MAASAI DAYS


"N01906" Summit Books, New York. 1st edition with dustjacket. This book presents a thoughtful and personal look at the Maasai as individuals in a land encountering rapid social, economic and environmental changes. The auhor, a journalisy hereself, is the wife of a professional joournalist who was assigned to Kenya from 1980 to 1986. The book is a 1st edition with dustjacket. Thedre are no marks or inscriptions. Very Fine/Very Fine ID#: 3643

$25.00


Currently "1" available in stock .

Bey, Fergie

THE STORY OF FERGIE BEY


"JL25625" Macmillan, London 1930, 1st edition, 356 pages, illustrated, fold out map intact. ""Told by himself and some of his friends."" Fergie Bey, his real name was Captain V.H. Fergusson, was murdered in the Sudan in 1927 by one of the Nuer tribesmen he had always befriended. He had been nicknamed ""The King of the Nuers"" from having made these savage people his own special care in his job as district commissioner of Bahr-el-Ghazal. He led an unusually adventurous life and this book chronicles many of his experiences with Sudan wildlife and people. There are some notable hunting episodes particularly with elephants. Czech writes: ""Near the Bikki River, he bagged elephant and poses in an interesting photograph 'under an arch of ivory.' In Mogalla Province, he hunted lion and elephant, and was literally run over by an elephant, 'hoofed over like a damned football'."" Moderate cover wear. Gilt lettering on spine is intact. Contents are tight and clean. There are no marks or inscriptions.. A Near Fine copy. ID#: 4336

$225.00


Currently "1" available in stock .

Blixen, Karen

OUT OF AFRICA


"N29187" Putnam, London November, 1937. No jacket present. The true first edition of this great work on colonial Africa before it was issued a year later in the U.S. under Blixen's pseudonym "Isak Dinesen," This copy is bound in the original burgundy cloth binding. Gilt lettering on spine is bright. The book is tight and clean save for evidence of mild foxing to the upper text block edge, and a former owner's name has been inked in block letters at the upper edge of the front pastedown being the book's only significant fault. Otherwise, a Near Fine copy of a scarce work. ID#: 3343

$375.00


Currently "1" available in stock .

Boisragon, Captain Alan

THE BENIN MASSACRE


"T30427" Metheun, London 1897, first edition, 190 pages plus a 40 page catalog of books available from the publisher, with a frontispiece portrait of the two survivors of the massacre, sketch map. British colonial troops in Nigeria. Red cover with gilt lettering is bright and intact, spine lettering is intact but dull.and there is sunfading to the spine and slight wear on head and tail of the spine. There is a bookplate on the front pastedown of the W.H. Smith subscription library but there are no marks or stamps on the spine or internally. Other than some minor foxing, the contents are tight and clean. A Very Good copy of a scarce title. ID#: 2937

$175.00


Currently "1" available in stock .