Sess DL_ATC_ID: 0
Adamson, Joy

BORN FREE


Pantheon Books, N.Y. 1960, first edition, 221 page, , profusely illustrated with B & W photographs, frontis. In color. Story of Elsa, ""A Lioness of Two Worlds."" Dust jacket is price-clipped and shows some wear and spine sunning but is complete and overall Very Good. The book itself is Fine. ID#: 792

$10.00


Currently "1" available in stock .

Akeley, Carl & Others

AFRICAN HALL---BIG GAME HUNTING AND COLLECTING


"T30548" The Mentor Magazine, Cromwell Publishing, Springfield, Ohio, January 1926 issue, 4to, 62 pages, paper wraps, profusely illustrated. An entirely African edition featuring original writings, Akeley's THE STORY OF THE AFRICAN HALL, How Big Game has been collected and assembled for the African exhibit in the American Museum of Natural History, New York. Also by Akeley AFRICAN HALL, A MONUMENT TO PRIMITIVE AFRICA and by Akeley CARL AKELEY'S OWN STORY autobiographical about his life and career. The issue also includes MARTIN JOHNSON AND HIS CAMERA by D,G, Ross ""His photographic records will make people see and feel Africa."" Next is HERBERT WARD, A sculptor of Primitive African Life. The issue concludes with a last article by Carl Akeley HAVE A HEART, a statement and plea for fair game sport in Africa. Except for minor cover wear, the contents are clean and without any marks or inscriptions. Near Fine. ID#: 3166

$50.00


Currently "1" available in stock .

Akeley, Mary L. Jobe

CARL AKELEY'S AFRICA


"BL25588" Dodd Mead, N.Y. 1929, first edition, , 321 pages, illustrated, map endpapers. Account of the last and most important expedition of Carl Akeley, the one in which he gave his life while studying the great game herds of Tanganyika and the Congo, the Akeley-Eastman-Pomoroy Expedition for the African Hall of the American Museum of Natural History. No dust jacket. The green cover is bright and unfaded, gilt lettering on cover is bright and intact. Spine lettering is intact but somewhat dull. There is a black vignette of a gorilla on the cover and a giraffe on the spine. There is moderate cover wear with a small split on the head of the spine. There is a previous owner bookplate on the front pastedown and a bookplate of well-known big game hunter, Frederick B. Patterson, affixed to the half-title page. There are no other marks or inscriptions and the contents are tight and clean. Very Good. ID#: 3008

$100.00


Currently "1" available in stock .

Akeley, Mary L. Jobe

Congo Eden


[N25591] Dodd Mead, N.Y. 1950, 1st edition, illustrated, 356 pages. The great game sanctuaries of the Belgian Congo. Much background on the early explorers, description of big game and story of a six-month pilgrimage through this primitive area. No dust Jacket. The book is Near Fine. $30.00 ID#: 99

$30.00


Currently "0" available in stock .

AKELEY, MARY L. JOBE

Rumble of a Distant Drum


[W26867] Dodd Mead, N.Y. 1946, 1st edition, 364 pages, illustrated by Arthur August Jansson, artist to the Akeley-African Hall Expedition. Decorative endpapers. "A True Story of the African Hinterland." Previous owner bookplate on the front endpaper. No dust jacket. Clean, tight and Near Fine. ID#: 96

$45.00


Currently "1" available in stock .

AMES, EVELYN

A GLIMPSE OF EDEN


[N001886A] London: Collins, 1968. 1st Edition. Hardcover. / Dust Jacket Included. The author recounts in vivid detail and flowing prose her experiences of a prolonged African safari. Excellent critical acclaim. Fine/Very Good Plus ID#: 101

$20.00


Currently "1" available in stock .

Amin, Mohamed, Willetts, Duncan and Tetley, Brian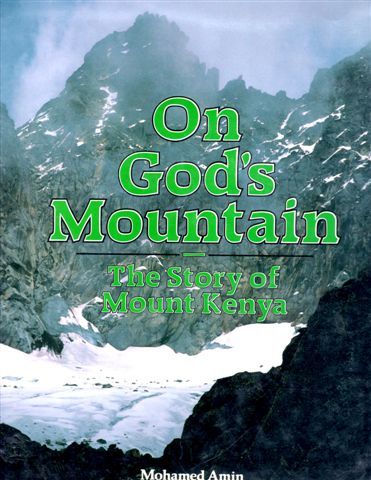 ON GOD'S MOUNTAIN -- THE STORY OF MOUNT KENYA


"T30520" "" "On God's Mountain -- the Story of Mount Kenya" ". Camerapix Publishers International, Nairobi 1991, first edition, folio, 192 pages, illustrated with magnificent photographs in full color, pictorial endpapers. Estimated to have once topped 23,000 feet, wind, sun and rain have taken their toll and slowly glaciation, time and weather eroded its crumbling crown to where Mount Kenya now stands at 17,058 feet. First climbed by Halford Mackinder a century ago, it is now a mecca for mountain climbing enthusuasts who come to relish the rock and ice climbs and revel in the extraordinary beauty of the surrounding moorlands and minor peaks. Dust jacket and book are Very Fine. ID#: 3100

$60.00


Currently "1" available in stock .

Arniel, A.J.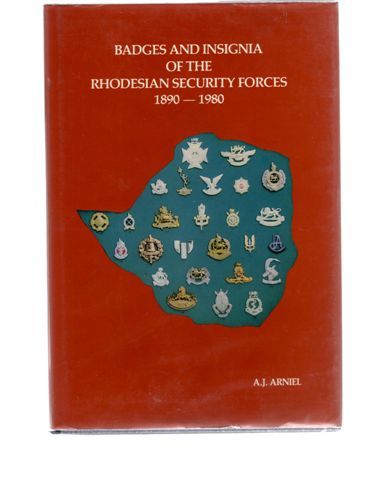 BADGES AND INSIGNIA OF THE RHODESIAN SECURITY FORCES 1890 - 1980


"T28129" Alec Kaplan, Germiston, South Africa, 1987, first edition, 111 pages."" An illustrated reference book for collectors but also a unque assemblage of the various badges (official and unofficial) worn by the units of the Rhodesian Security Forces. The 400 - plus drawings are meant to show the evolution of various insignia and record for posterity little known facts about each unit. The fact that Rhodesia is no more has complicated this task enormously. Above all this book was intended as a tribute to all those men and women who were the spirit of Rhodesia."" Dust Jacket, Very Fine. ID#: 2805

$50.00


Currently "1" available in stock .

Balneaves, Elizabeth

Elephant Valley


[W28697] Lutterworth Press, London 1962, first edition, 179 pages, B & W photographs, map. The adventures of J. McGregor Brooks, Game and Tsetse Officer, Kariba. No dust jacket, The book has water stains along the spine on the front cover not affecting contents which are clean and tight with a previous owner name stamp on the front endpaper. Near Very Good. ID#: 104

$10.00


Currently "1" available in stock .

Bannister, Anthony & Gordon, Rene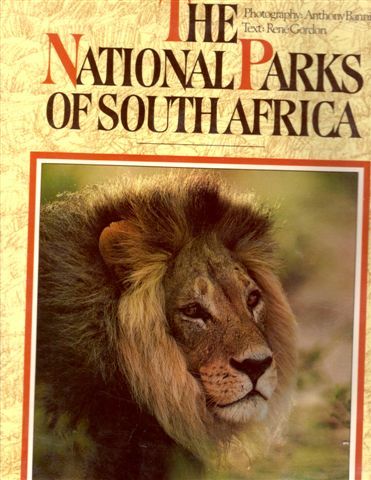 THE NATIONAL PARKS OF SOUTH AFRICA


"T30271" C. Struik, Cape Town 1983, first edition stated, folio, 238 pages, illustrated profusely with spectacular full color photographs, many full page and two page spreads. Beautifully covers the wildlife and often spectacular scenery of South Africa's national parks. Dust Jacket and book are Very Fine. ID#: 2505

$25.00


Currently "1" available in stock .

Bass, Thomas A.

Camping with the Prince and other Tales of Science in Africa


[T29614] Houghton Mifflin, Boston 1990, first edition, 304 pages, map endpapers. Dust jacket, Very Fine. ID#: 105

$10.00


Currently "1" available in stock .

Beard, Peter

THE END OF THE GAME


"N30102" Taschen 2008, reprint of the popular work, 280 pages, large 4to, profusely illustrated. Pictorial cover with no dust jacket as issued. Very Fine. ID#: 2082

$60.00


Currently "1" available in stock .

BELLOTTI, FELICE

FABULOUS CONGO - Illustrated by B&W Photos and Map Endpapers


[N01831] London: Andrew Dakers Ltd. ca. 1950?, 1950. 1st. Very Good/None - nd approx 1953. Some shelfwear and spine fading. An outstanding and well crafted book on the Belgian Congo as it was in the early 1950s. The sharp full page photos gives the reader an amazing overview of the customs, tribal culture, and elaborate costumes of the Congolese natives. ID#: 107

$15.00


Currently "1" available in stock .

Bigelow, Poultney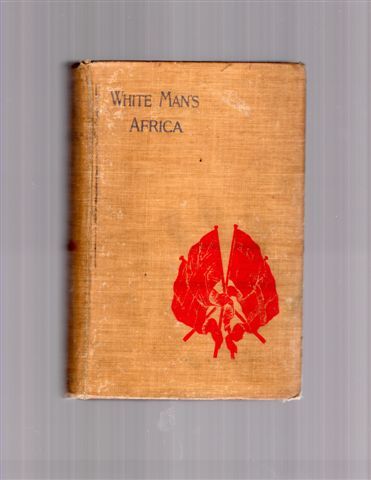 WHITE MAN'S AFRICA


"T30518" Harper Brothers, London 1900, 12mo, 299 pages, new editon of the book originally published in 1897. An overview of South Africa, its history and status at the time of the Boer War. Covers Jameson's Raid, President Kruger, Portugese Progress in South Africa, the Orange Free State, the Last of a Great Black Nation, much on the Boers, their ways and history going back to the Great Treck, the relationship of the Boers and the British. Covers are soiled and show aging but contents are generally sound.and tight. A Near Very Good copy. ID#: 3090

$35.00


Currently "1" available in stock .

Biss, Capt. Harold C.J.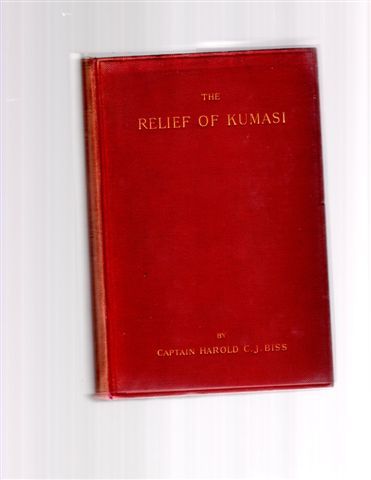 THE RELIEF OF KUMASI


"T30426" Methuen, London 1901, first edition, 315 pages plus 45 page catalog of books for sale by the publisher, with sixteen illustrations from photographs and plans, inserted map is intact. British troops in action during the Ashanti Wars in the Gold Coast of Africa. Red cover with gilt lettering is bright and intact, spine sunned with lettering faded. There is some minor foxing otherwise contents are tight and clean. A Very Good copy of a scarce book. ID#: 2936

$175.00


Currently "1" available in stock .