Sess DL_ATC_ID: 0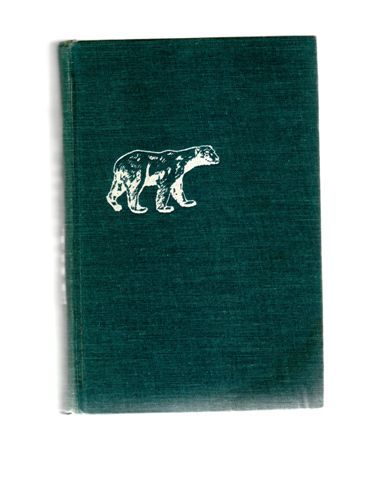 "T30224" "Freuchen, Peter & Salomonsen, Finn" "The Arctic Year" "Polar" "THE ARCTIC YEAR. Putnam's, N.Y. 1958, first edition, 438 pages, illustrated with line drawings, map endpapers. A month by month overview of life in the Polar regions.No dust jacket. Polar bear vignette on front cover and lettering on spine are intact. A Very Good Plus copy. ID#: 2337

$15.00


Currently "1" available in stock .

Amundsen, Roald and Ellsworth, L.

FIRST CROSSING OF THE POLAR SEA


"W26754" "" "First Crossing of the Polar Sea." "Polar" ". George H. Doran, N.Y. 1927, first edition, 324 pages, profusely illustrated with B & W photographs. Includes additional chapters by members of the expedition. Heavily financed by Ellsworth, transfer of ownership of the the Italian airship ""N1"" was arranged with Mussolini's support, and it was rechristened ""The Norge."" Umberto Nobile, who had supervised construction and who had operating experience with ""N1"" was chosen as commander of the ""Norge."" The flight in 1926 took Amundsen and Ellsworth across the North Pole from Spitsbergen to Alaska. Flags of the three countries involved, Norway, Italy and the U.S. wer dropped at the Pole. No dust jacket. Moderate wear. Very Good Plus. ID#: 2685

$125.00


Currently "1" available in stock .

Balch, Edwin Swift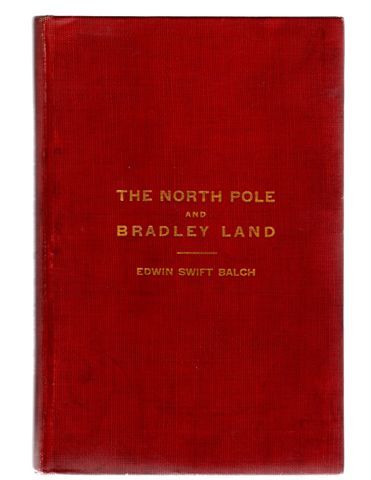 THE NORTH POLE AND BRADLEY LAND


"W30342" Campion, Philadelphia 1913, first edtion, 4to, TEG, 95 pages, map. The author goes to great length to try to prove that it was Dr. Frederick Cook and not Peary who was first to reach the North Pole. No dust jacket. Minor cover wear, Gilt lettering on cover and spine bright There is a bookplate from the New Mercantile Library on the front pastedow but there are no library stamps in the book or on the spine. A Near Fine copy of a very scarce iterm. ID#: 2689

$250.00


Currently "1" available in stock .

Boas. Franz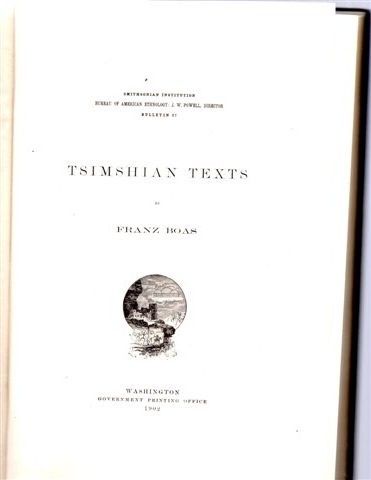 TSIMSHIAN TEXTS


"T28914" Smithsonian Institution Bulletin 27, Government Printing Office, Washington 1902, 244 pages, 4to, These texts were collected in Kinkolith, at the mouth of the Ness River, during the months of November and December 1894 while the author was engaged in researches under the auspices of the British Association for the Advancement of Sciences. The principal object of these investigations was a study of the Athapascan tribe of Portland canal. The texts are in the Nass River dialect of the Tsimshian language. The dialect is called by the natives Nisqa'E. the texts were obtained from four individuals - Philip, Moses, Chief Mountain and Moody. The greater number of them are myths of the tribe. Olive cover is unfaded and gilt spine lettering is intact. Endpapers have been renewed. Contents are tight and clean without marks or inscriptions. There is moderate edgewear. Overall a Very Good Plus copy of a scarce work. ID#: 2635

$50.00


Currently "1" available in stock .

Brown, Bern Will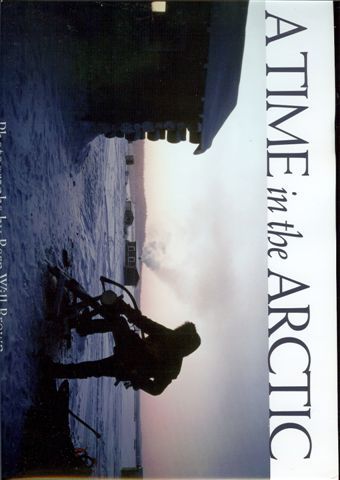 A TIME IN THE ARCTIC


"LG30172" privately printed by the author 2007, first edition, wide octavo, 96 pages, a book of spectacular color photographs by the author depicting life in the far north. Throughout his lifetime, Bern Will Brown recorded the places where he lived and traveled and the people he came to know, in photographs, on film and in his paintings. Most of the photographs in this book were taken in the 1950s, when many northerners still led traditional lives and had strong ties to the land. INSCRIBED BY THE AUTHOR. Dust Jacket, Very Fine. ID#: 2233

$45.00


Currently "1" available in stock .

Byrd, Richard E.

Alone


[T29625] G.P. Putnam's Sons, N.Y. 1938, first edition, 296 pages, decorations by Richard E. Harrison. Dust jacket is ragged. Book is Very Good Plus. ID#: 335

$15.00


Currently "1" available in stock .

CAMPBELL, BRUCE D.

WHERE THE HIGH WINDS BLOW


[020242] NEW YORK: Charles Scribner's Sons, 1946, 1946. 1st. Exploration and travel in the North Canadian Arctic over 5 years written while a POW in Germany. Very Good/No DJ Spine lightly sunned. ID#: 336

$10.00


Currently "1" available in stock .

Carrighar, Sally

ICEBOUND SUMMER


"T30296" Alfred A. Knopf, N.Y. 1953, first edition, 262 pages, illustrations by Henry B. Kane. The author re-creates the mood and events when winter briefly relaxes its frozen grip in the Far North. She records the joy and ordeals of animals and humans alike at this climactic moment of their lives -- when life and death are but a step apart, when the hunter becomes the hunted. Dust jacket is complete and Near Fine. The book itself is Fine. ID#: 2565

$25.00


Currently "1" available in stock .

Chapman, F. Spencer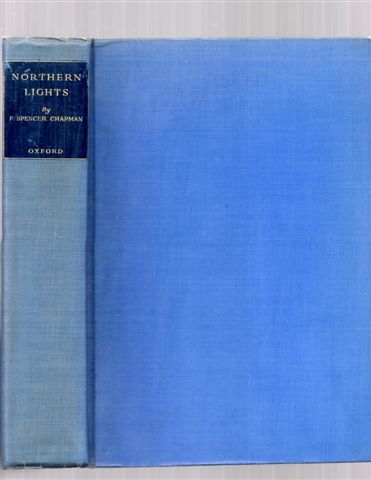 NORTHERN LIGHTS


"W30352" Oxford University Press, N.Y. 1933, first American edition, 304 pages, large octavo, illustrated with 64 pages of B & W photographs, map. Foreword by Admiral Richard Byrd. The official account of the British Arctic Air-Route Expedition to Greenland. No dust jacket.The spine label is intact and bright,. The blue cover shows little wear. There is a previous owner signature and date 1934 on the front endpaper. Other than a few scattered minor foxing spots on the page edges, the book is Near Fine. ID#: 2705

$85.00


Currently "1" available in stock .

Counter, S. Allen

North Pole Legacy; Black, White and Eskimo


[T29755] U. od Massachusetts Press, Amherst 1991, first edition, 222 pages, historic B & W photgraphs. Dust jacket is slightly chipped. Book has a small remainder mark otherwise Fine. ID#: 337

$10.00


Currently "1" available in stock .

De Poncins, Gontran

Kabloona


[T29726] Garden City Publishing, N.Y. 1943 reprint of the 1941 work, 359 pages plus 32 pages of incrdible B & W photographs of Eskimo people and their life, map endpapers, line drawings by the author. "A white man, journeying alone among the Eskimos, describes their lives, customs and amazing social code in a series of powerful and unforgetable sketches of a people whose civilization is a throw-back to the ice age." Dust jacket is somewhat ragged. The book has a small previous owner inscription but is otherwise Near Fine. ID#: 338

$12.50


Currently "1" available in stock .

Ellsworth, Lincoln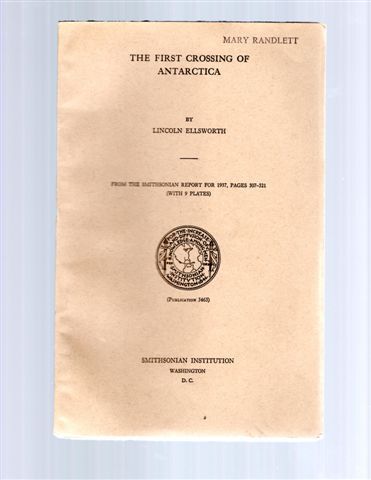 THE FIRST CROSSING OF ANTARCTICA


"T30313" Smithsonian Institution, Washington, D.C.,paper wraps, from theSmithsonian Report for 1937, pages 307-321, with nine B & W plates. . Has a previous owner name neatly stamped on the cover otherwise a Fine copy. ID#: 2630

$25.00


Currently "1" available in stock .

Finnie, Richard

CANADA MOVES NORTH


"T27333" Macmillan, N.Y. 1942, 1st printing stated, 227 pages, B & W photos, map endpapers. A book devoted to the Northwest Terrtories by a prominent member of the Explorer's Club . Its history, resources, opportunities. No dust jacket. Clean, tight and Very Good. ID#: 3201

$12.50


Currently "1" available in stock .

Fleming, Fergus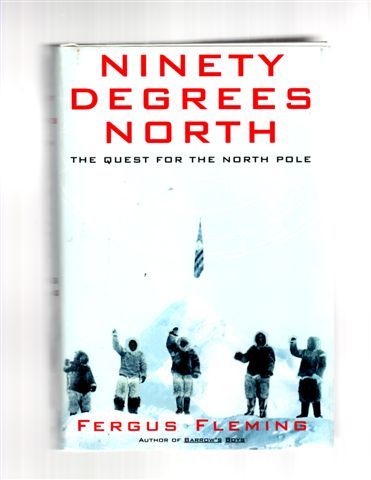 NINETY DEGREES NORTH, THE QUEST FOR THE NORTH POLE


"T30462" Grove Press, N.Y. 2001, first American edition stated, 470 pages, illustrated with B & W photographs, paintings and drawings, map.This book is a high octane,swashbuckling history of the:ice-clumped lunatics who vied to conquor ultimate north.. Intrepid, obsessive, sometimes just plain insane, they endured, scurvy, months-long ice traps, unspeakable deprivation, polar bear attacks and sunless minus hundred degree winters that often led to mutiny and madness. Dust jacket is price-clipped otherwise jacket and book are Very Fine. ID#: 2991

$25.00


Currently "1" available in stock .

FRANCIS, DANIEL

Discovery of the North


[T29723] Hurtig, Publishers, Edmonton 1986, first edition, 224 pages, B & W photographs and other illustrations, several maps. The Exploration of Canada's Arctic featuring the golden age of arctic exploration from Martin Frobisher in the sixteenth century to the controversial Vilhjamur Stefansson in the early twentieth. Dust jacket and book are Very Fine. ID#: 341

$12.50


Currently "1" available in stock .